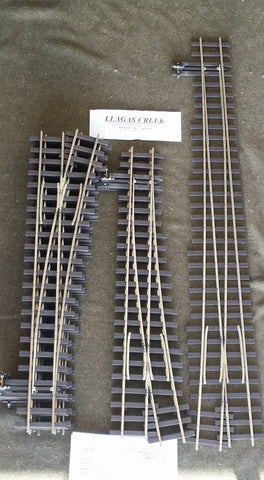 Nickel Silver Turnouts - Code 250
Due to the custom nature of these products and fluctuations in number of orders in our queue, please inquire via email (llagascreekrailways@gmail.com) about turnout building timeframes if you have a large or time sensitive order. Typically we are able to build and fulfill an order within 8 weeks.
All turnouts are made for use with "G Scale" and "Gauge 1" equipment, 45mm gauge. 
Our Code 250 Nickel Silver turnouts come standard with solid plastic ties and stainless steel spikes are available in our brown tie 1:20.3 scale narrow gauge line and 1:32 standard gauge.
All of our Code 250 Nickel Silver turnouts use a solid cast white bronze or nickel silver frog to ensure short wheel base locomotives will not stall, as they may do on plastic frogs. All of our turnouts utilize all metal frogs to provide years of smooth, trouble free performance.
Our turnout points and guard rails are positioned to accept wheel sets made to the G1MRA "recommended practice" of 40 mm (1.575") back-to-back measurement.
Our Code 250 Nickel Silver turnouts feature the Tenmille Ground Throw mounted on the curved side as standard equipment, or a turnout motor can be added for an additional charge.
Turnout Lengths (Tangent Side)
#4 - 22in

#6 - 28in

#8 - 35.5in

#10 - 39in
Turnout Divergent Radii (Before straightening out through frog)
#4 - 40in (3.33ft)

#6 - 78in (6.5ft)

#8 - 178in (14.83ft)

#10 - 212in (17.66ft)
---
We Also Recommend