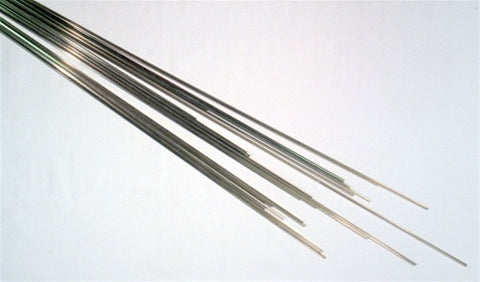 Individual 6 Foot Rail Sections
Due to USPS international shipping restrictions, we cannot ship 6ft lengths of rail internationally through that carrier, you must use UPS or FedEx instead who tend to be quite expensive. If you are outside the USA and wish to save on shipping and take advantage of the lower USPS rates at the compromise of shorter rail lengths, please order the 3ft lengths from this page (Link).
---
10/10/2021 - We have discontinued Code 215 Aluminum rail due to low sales.
Llagas Creek Railways offers the most accurately scaled rail profiles in the industry. All of our rail is formed here in the United States.  Both Code 215 and Code 250 rail profiles have a 5.0mm base width and are interchangeable with all of our currently produced tie strips. All rail on this page is sold in 6 foot lengths. 
Our Code 215 and 250 narrow base aluminum rails are both made of super strong 6061-T6 alloy. This alloy is close to mild steel in tensile strength. Aluminum rail has been successfully used for many years on both indoor and outdoor track powered railways. To supply power to aluminum rail, feeder wires may be soldered to our stainless steel or nickel-silver rail joiners. Most of our customers who run live steam or battery powered radio control locos are choosing aluminum rail due to it's low cost.
Our Code 215 and 250 narrow base nickel silver rails are of the finest quality and also made here in the U.S. with an 18 % nickel content. Nickel silver rail is very popular with our customers who run track power because of its low maintenance.  The biggest benefit of our Nickel Silver rail is that it naturally forms an electrically conductive oxide that does not require regular track cleaning.   When placed outdoors, our Nickel Silver will weather to a pleasing, realistic gray-brown color. After the rail weathers, you can polish the rail head back to a realistic shiny silver color for a very prototypical look.
New to Llagas, we are now offering Brass rail in our popular Code 250 profile. *NOTE: We do not offer Brass in Code 215* Brass rail has long been the favorite rail for beginners all the way to seasoned hobbyists.  We use one of the highest quality brass alloys available.  It has many advantages including its strength, ability to conduct electricity and ease of soldering.  Outdoors, our brass rail will weather to a very pleasing brown color.  Our new brass rail is compatible with either of our two tie strips.  Just like all our other rails, our brass rail is made here in the United States.
---
We Also Recommend